海外優惠專區 加拿大免運包 省HK$572運費!!
Overseas Exclusive Offers | Free Shipping For You Today!
Save up to HK$572 from HK to Canada
為感謝海外粉絲的長期支持,本店開設"海外專區",定期推出不同地區的優惠計劃,如"免費包" ,為大家省運費。
To deliver our thankful to the continuous supports from our fans overseas, we've recently established a new page for "Overseas Exclusive Offer" in which you'll find exclusive promotions for overseas customers, including free-ship-promotions in different areas, from time to time.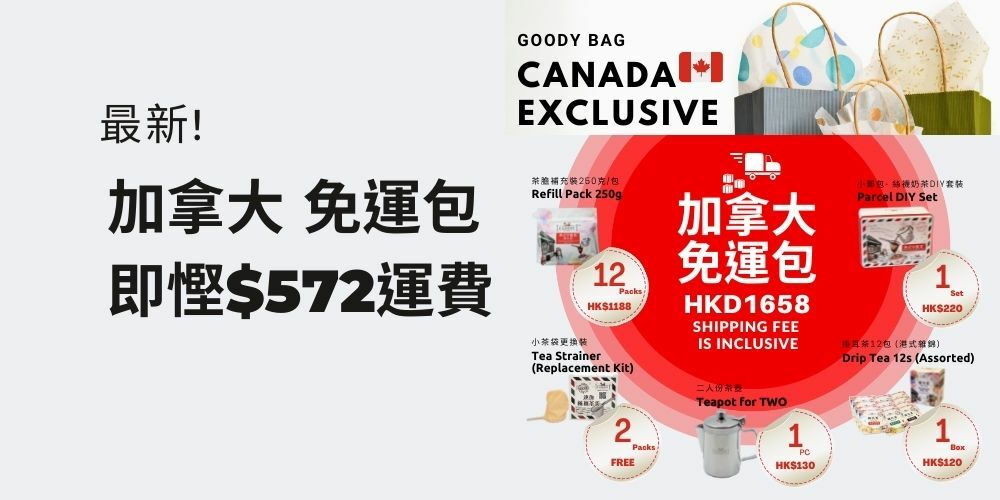 我們深感明白"運費" 是海外客戶最關心的事項。
此加拿大"免運包",精選了最暢銷的商品組合,並充份善用5KG 萬用箱的空間,可謂最抵又最慳位!
TEADDICT的粉絲不要錯過哦!
We truly understand shipping cost is the most concerned issue to our overseas customers.
Now we launch our first offer – FREE SHIP Goody Bag to Canada!
For this free-ship Goody Bag to Canada, we fully utilized the 5kg box provided by Hongkongpost with selections of TEADDICT's hot-items.
Hurry! Don't miss it!
商品內容?
茶膽補充裝250克 X 12 件
贈品: 小茶袋更換裝 X 2件
小郵包DIY絲襪奶茶DIY套裝 X 1 件
掛耳茶-港式雜錦12包/盒 X 1盒
二人分茶壺 X 1件
What do I have in the goody bag?
Teabase Refill Pack 250g X 12 pcs
Free gift: Mini Tea Strainer Replacement Kit X 2 pcs
Parcel DIY Kit of HK Milk Tea X 1pc
Drip Tea HK Ice House Series Assorted 12pcs/box X 1 box
Teapot for TWO X 1 pc
送貨方式?
我們使用香港郵政提供的萬用箱,經"特快專遞"寄件,一般兩至三星期左右到達,詳情請查閱香港郵政於每個地區的運送時間為準,亦需留意因COVID-19對航機班次的影响。
How to Ship?
Speedpost service by Hongkongpost.
In general the parcels will be delivered around 2-3 weeks but it varies from different areas and the flight schedules which might be influenced by COVID-19. You are strongly advised to refer to the official website of Hongkong Post to check the latest news and delivery standard days to different locations.
#CanadaFreeShipGoodyBag #加拿大免運包 #海外專區 #茶膽零售